The College of Liberal Arts and Sciences Dean's Lecture Series highlights faculty excellence in learning, discovery, and engagement in Iowa State's largest college. The dean invites LAS faculty of distinction to present lectures from their own areas of expertise on topics of interest to the general public, designed to stimulate high-quality, intellectual discussion among faculty, staff, students, and community members.
Lectures are held during the fall and spring semesters during the academic year.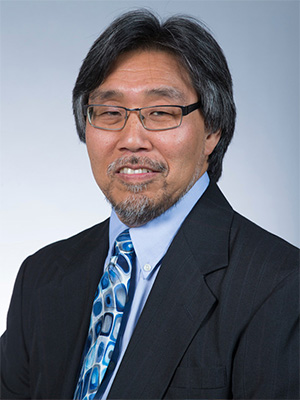 Morrill Professor Don Sakaguchi
"Stem Cells and Bioengineering for Brain Repair Strategies"
Virtual Event.
Tuesday, March 23, 2021 at 6:00 p.m.
In his presentation, Morrill Professor Don Sakaguchi will discuss his highly collaborative, interdisciplinary research program that merges stem cell biology and bioengineering to develop experimental brain and tissue repair strategies. When combined, these enabling technologies can contribute to the development of novel therapeutic interventions with biomedical applications. His laboratory's educational goal is to effectively integrate research with educational activities and train undergraduates, graduate students, and postdoctoral fellows in interdisciplinary studies to produce next-generation biologists and bioengineers.
View the recorded lecture at events.las.iastate.edu.
Novotny Lawrence, associate professor of communications
"White Mansions, Black Bodies: Jordan Peele's Get Out and the New Age Slave Plantation"
Fall 2019 Dean's Lecture
Kelly Winfrey, assistant professor of journalism
"Gender and Communication on the Campaign Trail"
Spring 2019 Dean's Lecture
Borzoo Bonakdarpour, assistant professor of computer science
"Designing Secure Fleets of Drones: Possibilities, Challenges, and Limitations"
Fall 2018 Dean's Lecture
Robbyn Anand, assistant professor of chemistry
"Divide and Conquer: Stopping Cancer One Cell at a Time"
Spring 2018 Lecture
Eric William Davis, Department of Computer Science
"Is Your Data Safe? Corruption, Money Laundering, and the Malicious Side of Data"
Fall 2017 Lecture
Matt DeLisi, Department of Sociology
"Severe 5%: Understanding the Criminal Justice Syste"m
Spring 2017 Lecture
Robyn Lutz, Department of Computer Science
"Programming Molecules in the Age of Nanotechnology"
Spring 2016 Lecture
Michael Christopher Low, Department of History
"ISIS, Jihadist Violence, and the Quest for an Idealized Islamic State"
Fall 2015 Lecture
Alison Phillips, Department of Psychology
"Health-Related Habits…Scientifically Speaking"
Spring 2015 Lecture
Mayly Sanchez, Department of Physics and Astronomy
"Measuring the Elusive: How to Catch Neutrinos and What They Tell Us About the Universe"