Develop your big idea and change the world!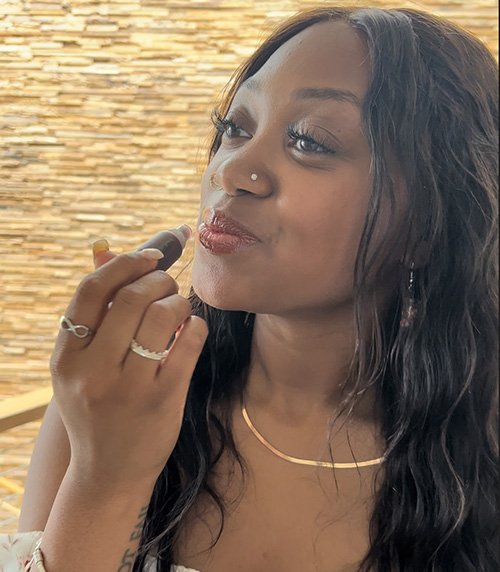 Jassma'ray founded a socially-conscious lip gloss company in her dorm room.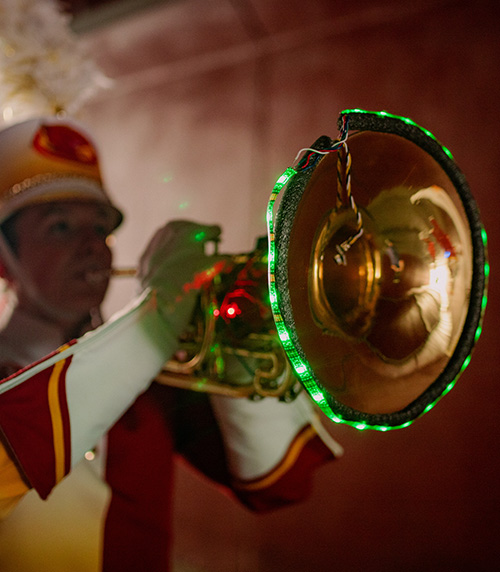 Logan is part of a team that is developing sound-sensitive lights for band instruments.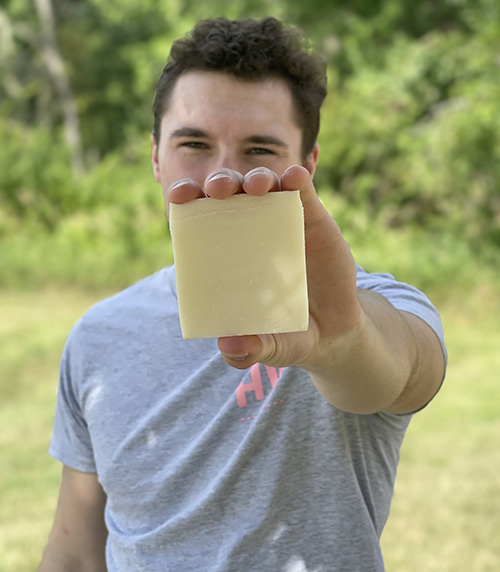 Tommy and his co-founder sell their handmade soap online and in retail locations.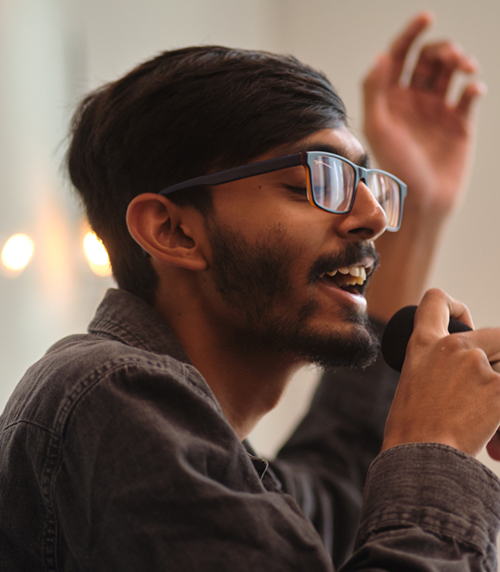 Sundar and his I+E team launched a mental wellness club on ISU's campus.
Maximize Your Potential
Have you ever thought, "There's got to be a better way" – or maybe you've envisioned how to solve a problem to make the world a better place.
Whether your big idea is an innovative product, a way to ignite social change, or a way to transform an organization, you can acquire the skills, knowledge and personal networks to become an agent of change in the LAS Innovation and Entrepreneurship (I+E) Academy!
The College of Liberal Arts and Sciences offers a two-year academy for all LAS majors, where you can engage in online, face-to-face, and interactive activities to experience and develop an innovative and entrepreneurial mindset. We'll even match you with a mentor in the second year, and you can emerge from the academy with a well-defined path to develop your big idea – or ideas you may have in the future! Opportunities on campus like ISU's Pappajohn Center for Entrepreneurship's CYstarters student accelerator are a natural next step for students completing the academy, and we'll help you get there.
An Adventure in Innovation
Throughout the entire program, you will acquire knowledge and skills, nurture concepts to creation, and build a peer and professional network that affirms your unique position in the world NOW.
Year 1: skill development, weekly meetings with peers
Leadership
Risk and benefit analysis
Resourcing your idea
Strategic communication
Year 2: project implementation, monthly meetings with mentor & bi-monthly meetings with peers
Additional Innovation Opportunities
Explore additional innovation and entrepreneurial opportunities within LAS!
The Start Something LAS Incubator meets every second Wednesday of the month (February-April) from 4:00-5:00 PM in 2231 Student Innovation Center. This is an opportunity to meet other student founders, get advice on your ideas, and work through challenges you are facing. Each month a different topic will be covered pertaining to innovation and entrepreneurship
Add a minor in entrepreneurship to your degree, and open up another world of opportunities. Leverage your scientific knowledge, computational curiosity, creative approaches to communication, or other academic interests to make the world a better place.
Frequently Asked Questions
Who is the academy for?
LAS majors ready to explore innovation and entrepreneurship (especially open-option students!) Participants must be enrolled in an LAS major and maintain a minimum 2.25 GPA. Students must have at least 4 semesters remaining at ISU upon entering the academy, including the fall semester when they join.
What's the academy commitment?
This innovative program begins in the fall of each year and lasts four semesters, culminating in a collaboration with your own I+E career mentor. You'll earn one credit each semester.
How can I get more information?
Drop us an email if you have additional questions. We'd love to hear from you!
How do I sign up for the academy?
Attend one of our information sessions and fill out an interest form. We have a limited number of seats available, so snag your spot now!
We are especially interested in recruiting a diverse cohort that represents all LAS students.
Join These Iowa State LAS Alumni
We are excited for you to join the ranks of LAS innovators and entrepreneurs like these:
Bruce Roth (PhD '81 organic chemistry) – Inventor of cholesterol-lowering drug Lipitor
Charles Notis ('70 meteorology, MS '73) and Harvey Freese ('70 meteorology, MS '73) – Co-founders of the Freese-Notis weather forecasting company
R. Samuel Houk, professor of chemistry – Inventor of lead-detecting equipment used during Flint, Michigan water crisis
Steve Kawaler, professor of physics and astronomy, and Miles Lucas ('19 physics) – Contributed to analysis of a new planet discovered by NASA's new TESS Mission
Dillon Jensen ('21 computer science) – Co-founder of Jensen Applied Sciences LLC, which brings the Internet of Things to businesses such as local breweries
ISU Theatre – Revolutionizing the arts as one of the first theatre programs to commit to the national 50/50 by 2020 initiative for gender equity in the arts
Geetu Tuteja, assistant professor of genetics, development and cell biology – Applying next-generation technologies that could detect and prevent serious placental disorders like preeclampsia
Amanda Petefish-Schrag, assistant professor of theatre – Innovator in puppetry made from recycled materials, used to educate communities about sustainability
Aili Mu, associate professor of world languages and cultures – Creator of an entirely new way of teaching Chinese language, literature and culture
Thomas Wilhite ('74 journalism and mass communications) – Founder of Hyperion Pictures, which brought us the animated feature "The Brave Little Toaster"
Upcoming events

Add to calendar
2023-03-28 16:10:00
2023-03-28 17:00:00
America/Chicago
Sharkuterie Connections
Student Innovation Center 4250
More Events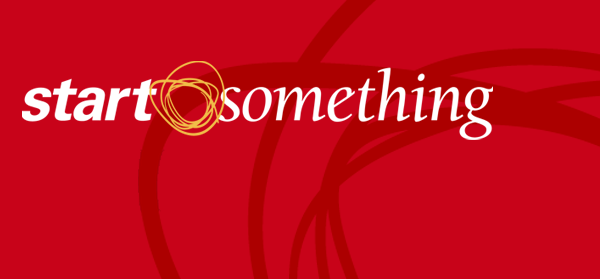 The LAS I+E Academy is part of Iowa State's Start Something Network, where you can find academic opportunities, all fostering innovation and entrepreneurship in your favorite area of study—that range from credit-earning coursework to capstone projects to internships.
So you can create your own educational experience where innovation is nurtured and entrepreneurship promoted.