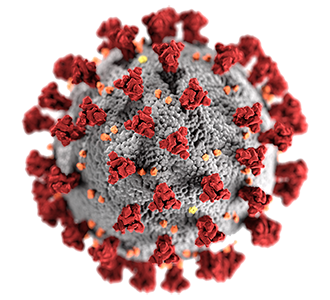 University Coronavirus (COVID-19) Information and Resources
Please check the Iowa State University safety page regularly for important updates surrounding the COVID-19 pandemic. The page includes all of President Wintersteen's updates to the campus community, FAQs by audience, resource contacts, travel restrictions, learning and employee resources, closures and event cancellations, and other important details.
The following information is a collection of LAS-specific and select ISU resources.
Response Teams
An LAS Response Team has been established to assist faculty and staff with issues, for example, the need for additional classroom signage or more face coverings, or questions about the process if a positive COVID-19 case is reported in a class or department.
To initiate a response from the LAS Response Team, send an email to: las-response@iastate.edu. If you are unable to send an email you can call: 515-294-7740.
An overall University Response Team has also been created to coordinate university-wide actions.
For a non-LAS specific need, faculty and staff may call the University Response Team central number to request assistance, report a problem, or share an idea of a creative, innovative approach to a recent challenge. The response teams will coordinate closely with the Emergency Operations Center and Fall Planning Executive Committee and supplement the existing response structures of Facilities Planning and Management, Department of Public Safety, Information Technology Services, and other service units.
The University Response Team offers 24/7 response when you call: 1-800-447-1985. Questions will be directed to the appropriate college or university contact.
Undergraduate and Graduate Student Resources
LAS Graduate Student Aug. 28 Town Hall
LAS Graduate Student Aug. 5 Town Hall
Website for students at an increased risk for severe illness
Letter from President Wintersteen to undergraduate students regarding Fall 2020
Letter from President Wintersteen to graduate students regarding Fall 2020
Information on laptop requirements
ISU FAQ for Students
Office of the Registrar FAQ
ISU FAQ for Graduate Students
Resources in Story County
Wellness
Wellness Support
Isolation Guidance for Iowans
Isolation Defined
Tips for Social Distancing
Learning and Academic
Canvas support
ISU Writing and Media Center
Prevent Zoombombing
Managing Disruptive Conduct in Learning Spaces
Your advisor is key in helping you succeed; please connect with your advisor via email or "EAB Campus – ISUAppointments link" in AccessPlus. In addition, the LAS Student Services team can be reached by phone Monday – Friday 7:30 a.m. – 4:00 p.m. at 515.294.4831.
If you have inquired about an upcoming deadline or registration date and have not received a response from your advisor within 2 business days, please email: las_sas@iastate.edu.
Research
Individual researchers who have specific questions about building-specific safety measures should reach out to their supervisors and department chairs.
Research resources
Research safety guidelines from the Vice President of Research's Office
Research FAQ
Messages to LAS Students from the Dean
March 11 message from the dean
March 23 message from the dean
March 31 message from the dean
April 16 message from the dean
Employee Resources
FAQ for Employees
Employee Guide for Returning to Work
Operations
Academic Affairs FAQ from the Office of the Provost – This information includes more details about how some of the president's announcements apply to faculty and staff within academic units like LAS.
FAQ from Procurement Services (Includes travel information)
Tools and Support
Remote work resources
Resources in Story County
Undergraduate Advisor Resources
College Messages to Faculty, Staff and Graduate Students
March 11 update from the Dean
March 23 update from the Dean
March 30 update from the Dean
April 6 update from the Dean
April 13 update from the Dean
April 20 update from the Dean
April 27 update from the Dean
May 4 update from the Dean
May 11 update from the Dean
May 26 update from the Dean
June 22 update from the Dean
July 7 update from the Dean
July 27 update from the dean
Aug. 17 update from the Dean
Nov. 18 update from the Dean
Faculty-Specific Resources
Course delivery
Managing Disruptive Conduct in Learning Spaces
Guidance from the Office of the Provost – class attendance, face coverings, virtual hiring, course scheduling, etc.
Quick Orientation Guide for Online Instructors, assembled by ELO
CELT course continuity resources
ISU Online Educational Resources
Prevent Zoombombing
Guidance on Prep Week and Final Exams
Guidance for Virtual Courses Summer 2020
Research
Individual researchers who have specific questions about building-specific safety measures should reach out to their supervisors and department chairs.
Research FAQ from the Vice President of Research's Office
Research safety guidelines from the Vice President of Research's Office
Research resources
NSF April 2 FAQ for proposers and awardees
General
Letter from the Faculty Senate